Evermore's Seasonal Collections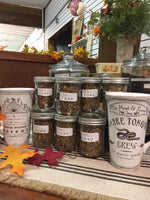 For a Limited Time.⏰ 👇👇👇 ⏳
🍂🍁🍂🍁🍂🍁🍂🍁🍂🍁🍂🍁🍂🍁🍂
🐸 TOAD Tea is BACK!!! 🐸
Once a year blend....A Rooibus mix of Eye of newt and puppy dog tails topped off with candied black cats...
It's only available this time of year and sells out fast!!!
🍂🍁🍂🍁🍂🍁🍂🍁🍂🍁🍂🍁🍂🍁🍂
Buy NOw
🐸 It's That Time of Year 🐸

Our once a year hand-blended TOAD tea!
Teas of the Season

Try our seasonal teas before they disapear, until next year that is
Your Special Gift Destination

We aren't just a tea shop ya know. Browse our variety of herbs, soaps, bath salts, natural cleaners, repurposed bags and clothing.